Holy Easter: Sunday 4th April 2021
We have prepared four surprises!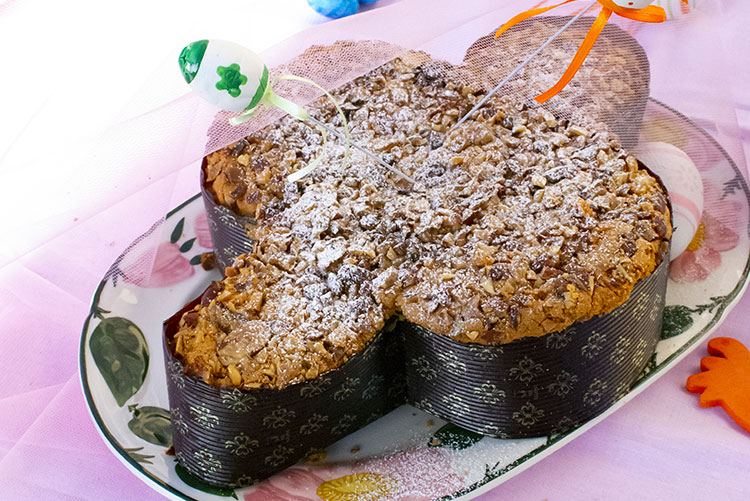 Easter at the Mattei-Pandolfini house is celebrated with the traditional colomba, which for us means our Mantovana cake dough poured into a dove-shaped mold!

For the first time ever at Easter, we have created 4 gift boxes for you that contain this dessert and other specialties. Just as we have already done for the Christmas packages, we have chosen the names of members of our family who are dear to us and for this reason we like to remember them.

The Elena gift box contains a Colomba-Mantovana and a packet of almond biscuits.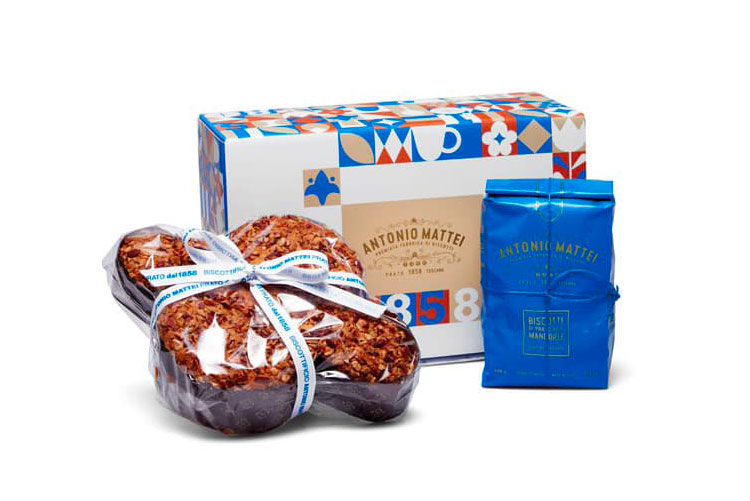 Aunt Elena will always be remembered as the "general" aunt for her military character: tough, simple, essential, but ultimately also tender (like the packaging dedicated to her).

Whereas Titina, the elder sister of our mother Maria Laura, had a much milder and gentler character; inside the gift box dedicated to her, we have added a bottle of vin santo and a tin box with assorted chocolate eggs.
Both of them used to stay at our mother's family home, both teachers, (both "spinsters" as we used to say...) they took advantage of the closed periods of the schools - Easter holidays and generally in summer - to come and stay with us and lent a hand to our mother who instead had the 4 of us to keep her busy.

When they arrived it was always a party! Titina and Elena were excellent cooks (as indeed is our mother) and they delighted us with homemade desserts; in some cases with recipes that included the use of products from our father's biscuit factory as a base. An example: the Easter Mantovana cake in the shape of a dove filled with custard.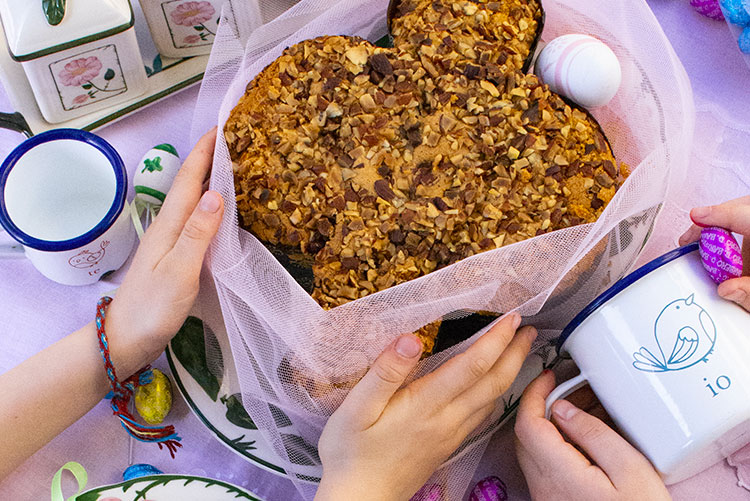 Aldo on the other hand was our mother's eldest brother. In the package dedicated to him we have included the Easter Mantovana cake in the shape of a dove and also the classic Prato biscuits with almonds that he loved to soak in vin santo.

Emilio: For Antonio Mattei's eldest son we came up with a slightly more "complex" package, like his life: Emilio, the only descendant to carry on the Cantucci and Biscotti factory, married three times but had no sons.

P.S. Another novelty that we have introduced to our gift packs this year is assorted eggs. They come in wonderful tin boxes and are separated into single-flavor bags: dark chocolate, milk chocolate, caramel and even drageés, from a company called Davide Barbero in Asti, a beautiful historic company just like ours.
Worth knowing: what does the word "Easter" mean? It comes from Greek: pascha, which in turn comes from the Aramaic word pasah and actually means "to pass over", therefore "passage". The Jews commemorate the Israelites passage across the Red Sea from Egyptian slavery to liberation. For Christians it is a celebration of the passage from death to eternal life.

Happy Easter to you all!