Everything in line
Let's start thinking about Christmas and gift boxes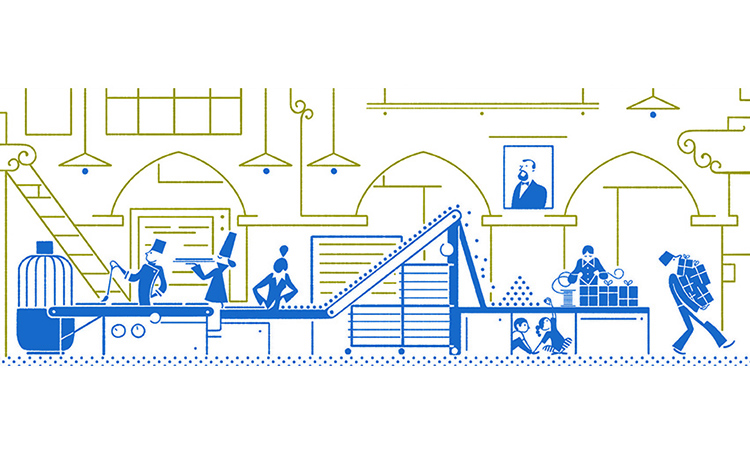 At the Mattei biscuit factory we are preparing for December's work and we have to admit it...
we feel a bit like Santa's elves! Those who knead, who prepare, who bake, who bag, who tie and those who wrap. All busy and surrounded by blue bags, packages and gift boxes.
It is important at this moment to "keep in line", to coordinate and complete the work, otherwise...
what would Santa Claus say?!

In November, the leavening begins at the Mattei biscuit factory, there is already a stronger smell than usual of biscuits and Mantovana cakes! The heat of the oven, the cutter pressing in, the packages being prepared, there is a great frenzy all around. It is a carousel, like the one that revolves around the NEW GIFT BOXES illustrated by Simone Massoni and Ilaria Falorsi: profiles of blue-coloured stylized figures that enter our historic shop and come out with biscuits, bags and hat boxes. On the lid of each box, there is Antonio Mattei holding a large blue package in his arm.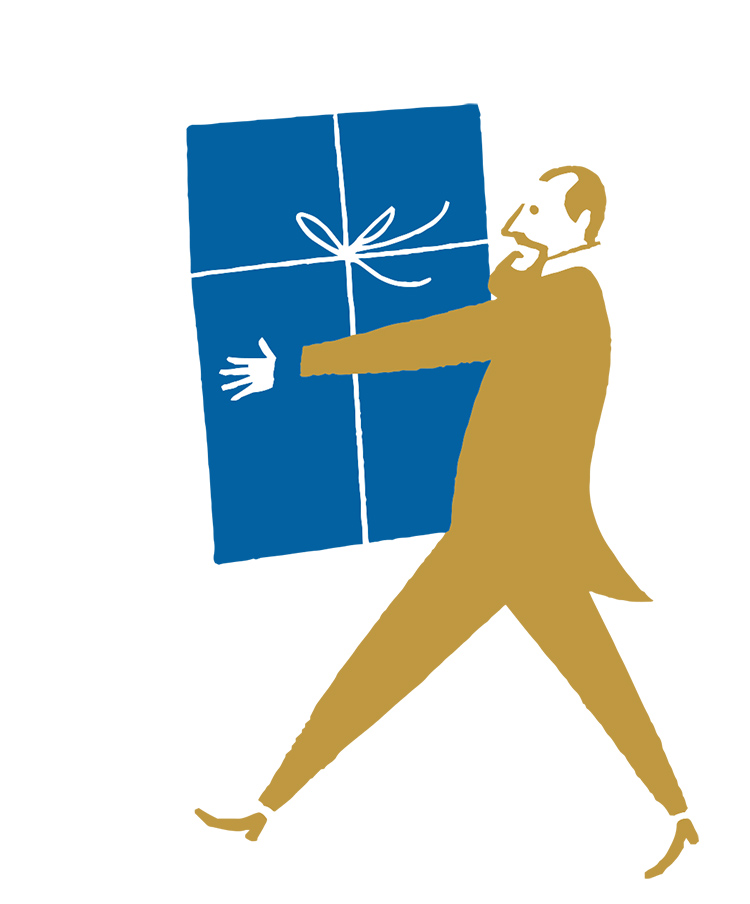 For the next Christmas, for these new boxes, various compositions have been designed that take their name from some emblems and historical monuments of our city: Datini, contains 500g of biscuits and a Panettone by Filippi; Pretorio, with a selection of biscuits of various flavours, but also Maglio chocolate and Barbero Torroncini. San Niccolò, the classic all Mattei collection, with biscuits, Brutti Buoni, a small glacè cherry Loaf and a Mantovana cake.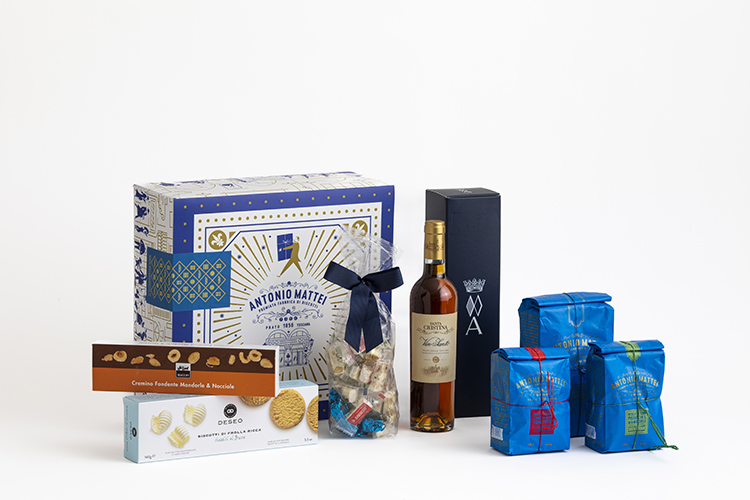 To mark the release of the new Mattei Biscuit factory gift boxes, a small exhibition has been set up in our Museum-Shop in via Porta Rossa in Florence that shows the evolution of the gift boxes sent over the years by our customers. A series of samples that show the evolution of our gift boxes from the 1950s to today and other small curiosities are on display: box dies (shapes used to cut the cardboard), satisfaction cards, brochures, stereotypes of the old logo and finally catalogues and price lists of gift boxes.
The exhibition is open to the public every day from Tuesday to Sunday from 11am to 7pm, it is an opportunity to give you a glimpse into the Christmas world of the Mattei biscuit factory.

Letizia Pandolfini