A drizzle of oil
Pan di 'Ramerino' by Biscottificio Mattei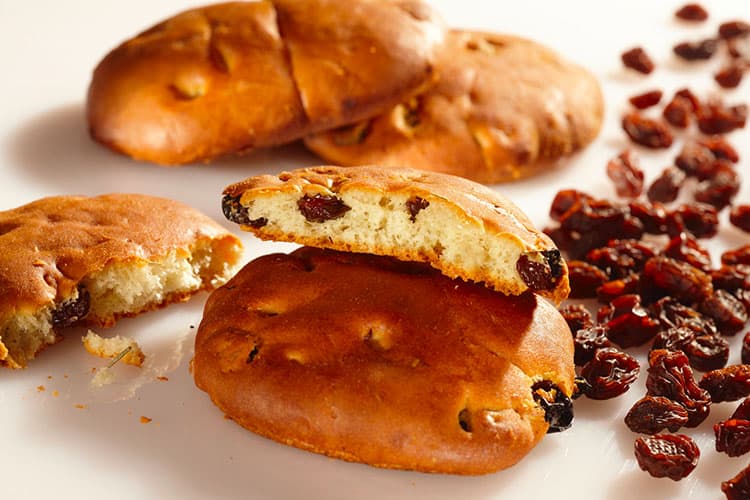 As we have discovered in prior blogs The word filo in Italian has many meanings. It can also be used figuratively to describe a small portion, or the way in which an ingredient must be added to the dough, the trickling motion that the oil makes when pouring ... exactly! This is how it is used during the preparation of our Pan di Ramerino at the Mattei biscuit factory.

Autumn is harvest season in Italy: The months of September and October are dedicated to the grape harvest, October and November are instead the olive harvest months where all the olives are taken to the olive oil mill. In Tuscany there is a traditional dessert that combines both these precious ingredients - Grapes and Oil: Pan di 'Ramerino' (Ramerino is the name we use in Tuscany for rosemary).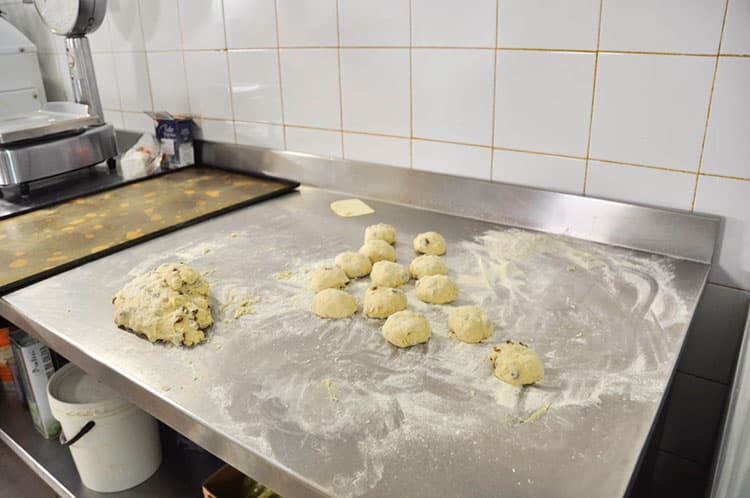 Here at Biscottificio Mattei, Daniele has been involved in the preparation of Pan di Ramerino for more than 20 years; at 6 in the morning, when he arrives, he begins to prepare the ingredients:

Soft wheat flour, Water, Yeast, Raisins, (or Zibibbo), Oil, Sugar, Rosemary and Salt.

Just this morning I had the procedure told to me in detail:

Mix the water and the baking powder, add part of the flour, sugar, salt, and rosemary, then mix and add the oil very slowly and the raisins, finally add the remaining flour and mix well. The dough must be very soft. Let it rest a little and in the meantime prepare a baking sheet with parchment paper, then proceed by making balls of about 100g that lie at a certain distance from each other; at this point, they are crushed with the palm of the hand and then two light cross incisions are made on the top, they are left to rise for about an hour, and then put in the oven at 230 ° for about 15 minu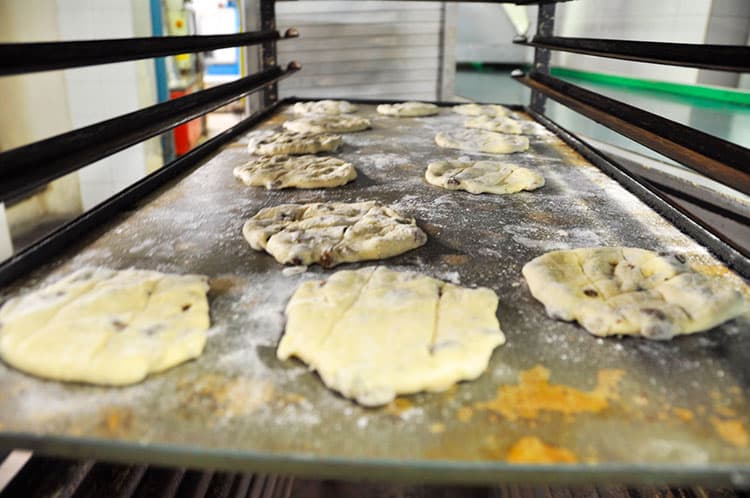 I like them well-cooked and crispy, so, the few times I've helped Daniele to make them, I crushed the dough very hard and then pretended to forget them in the oven for two minutes longer. They were exceptional!!

Letizia Pandolfini

P.S. The Pan di Ramerino could be for you if, like me, you love a breakfast which is not too sweet. We bake them every morning from Tuesday to Sunday, at 8.30 they will already be in our shop window in via Ricasoli in Prato, and a little bit later also at the Bottega Museum in Florence ... just give us enough time to get them there.