Time travel: Antonio Mattei biscuit factory past and present
The shop, the factory and the people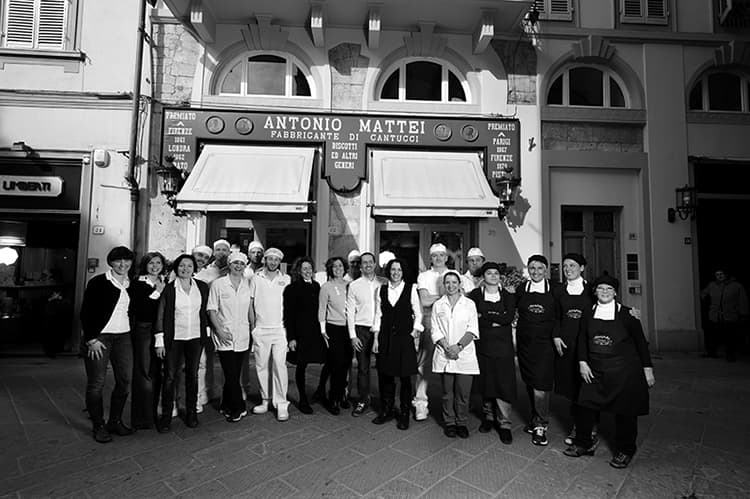 A day behind the "scenes" at the Antonio Mattei biscuit factory.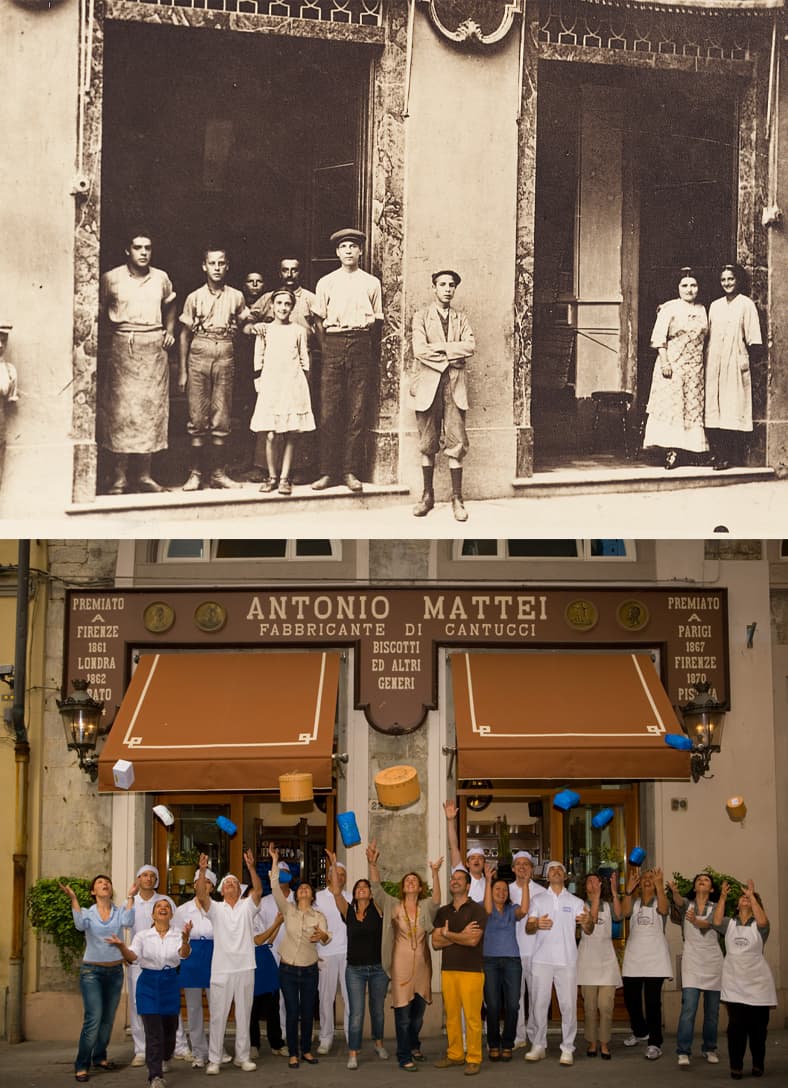 5:00 am Mauro (called Maurino by us) is the first to enter, he turns on all the lights, turns on the ovens, puts on his work clothes - the same for everyone and pristinely white -, and begins the preparations, he takes the "good health" dough (Brioche Bread) which has been prepared and left to rise the previous day; 5:30 am Maurone, Marco, Micaela join him and they shape the brioches and brioche loaves, which are arranged on trays and set to rise again; at 6:00/6:30am Daniele, Claudio then Leonardo, Vittorio, Lorenzo, Pablo and Andrea also arrive (not always in this order).

While Daniele prepares the dough for the Pan di Ramerino, Vittorio prepares the packaging, prints the labels, bags the "Biscotti della Salute", prepares the bags and boxes for the day's production, while the others work on the other preparations: 6.15 am the preparation of the glace cherry loaves, which is the same basic dough as the brioche, starts with the dough being rolled into long sheets and then cut, each piece is spread with apricot jam and garnished with 3 different coloured candied cherries, they are then rolled up and placed on trays, Claudio is responsible for preparing the upper garnish, which consists of a layer of marzipan and a sprinkling of icing sugar.

Around 6:30/6:45 we focus on the Mantovana dough, until a few months ago Beppe took care of it, (Enjoy your retirement Beppe!!!) now it is Maurino who coordinates this preparation. In the meantime, Daniele is looking after the Prato Almond Biscuits 7:30 The brioches are brushed with egg, some sliced and garnished with sugar and then baked, the Pan di Ramerino are also baked, ready to be taken out of the oven after about half an hour. The Cantucci all'Anice (aniseed biscuits) are toasted.

At 7:30 Beatrice enters (even if she is already here at 7! Thanks Bea) at 8:00 arrive: Sabrina, Sabrina Giraldi, Tommaso, Luca (the latter sometimes at 6 depending on the deliveries he must make).
At 8:20 Caterina enters, at 8.30 Angela, the first to arrive in the office. At 9:00, Rovena, Cristina, Vania, Filippo and Carlotta arrive.

Ah, I forgot the most important thing: at around 8:00 the baking of the biscuits begins which, left to rest and then brushed with egg, will come out of the oven, like every morning, at around 9:00 and that's when the wonderful aroma floods through the laboratory and runs out into the streets tickles the customers' noses and palates which entices them into the shop!

Letizia Pandolfini