The Recipe for cooking Prato Biscuits at home
The original Prato Biscuits, whose recipe dates back to the 1400s, are packed in the iconic Blu Mattei bag since 1858, when Antonio Mattei developed his own version of this recipe and began selling them in his Bakery.
For over a century and a half the recipe and its ingredients have remained the same: flour, sugar, eggs, almonds and pine nuts.
In fact, we need only five simple ingredients to prepare these traditional Tuscan biscuits, among the best known and most appreciated in the world, even by many illustrious characters, first of all: Pellegrino Artusi.
During our long history, many admirers have tried to faithfully reproduce our biscuits and some have managed to achieve more than excellent results... but, as in any self-respecting kitchen, the pastry chef's secrets have the power to give uniqueness to his creations.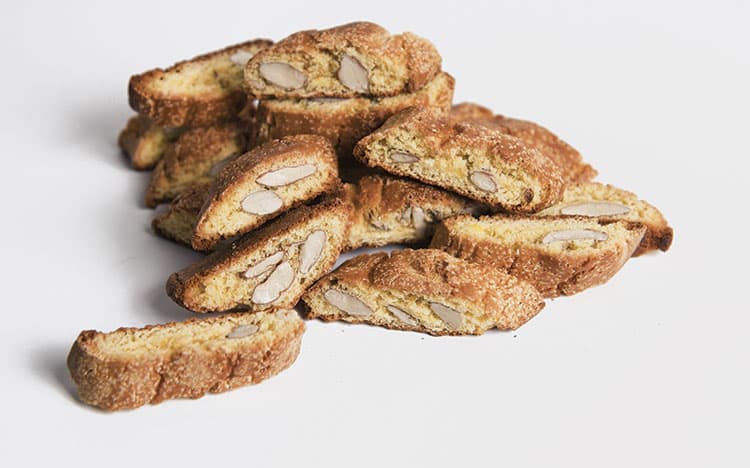 Aware of having supporters of cooking lovers, we hope to do pleasant things by giving you the recipe to make your personal home Prato Biscuits:
Ingredients (the doses are secret...)
Wheat flour
Sugar
Eggs
Unpeeled almonds
Pine nuts
In a bowl put the sugar and eggs and start mixing slowly. Add the flour and mix everything well. Finally add almonds and pine nuts. The dough must have a very soft consistency. Prepare baking trays with baking paper. With the dough obtained, create narrow and long loaves next to each other. Let rest 5 minutes. Gild the loaves (brush with mixed egg and water). Bake at 180/190 degrees for about 20/25 minutes. The baking of these biscuits is very important and depends very much on the type of oven (check anyway: the color must be beautiful golden). Once cooked, take the loaves and cut them transversely (2 cm / 2.5 cm wide).
That's it!