Make the thread in August
talking about sweet things...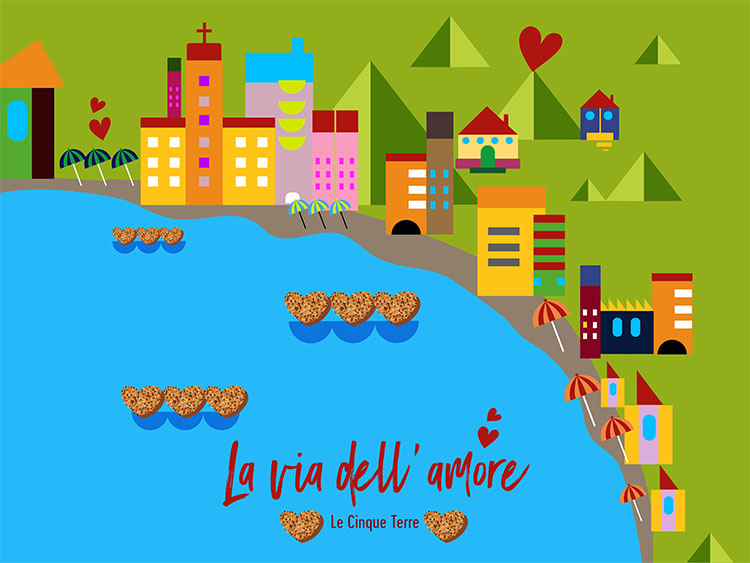 Continuing the discussion from the previous articles in our Blog regarding the different meanings and uses of the word "filo" (thread); there is another saying in Italian that is linked to the word and it is FARE il FILO a qualcuno which translates as TO MAKE the THREAD to someone, in the sense of courting/flirting with someone, to attract the attention of someone you are interested in. Perhaps it's because the word 'thread' in Greek is linked to the meaning of lover or enthusiast, for example: philosophy means lover of science or wisdom, the bibliophile is a lover, enthusiast or collector of books, etc...
In August whatever your "affection" is towards someone or wherever your passion takes you, you will have plenty of time to nurture it.
To keep with the theme, for the month of August in the Mattei biscuit factory's 2022 calendar we have chosen Cinque Terre and Via dell'Amore (Love Street). Meanwhile, we have chosen the Heart-shaped Mantovana Cake as the product of the month. Thinking about the heat in these days, we advise you to accompany it with a cold Vinsanto cream, please see below for the recipe. Another excellent alternative after meal treat is to have our wonderful Prato Almond Biscuits (cantuccini) combined with Antinori Vinsanto which you should serve cold / frozen in summer!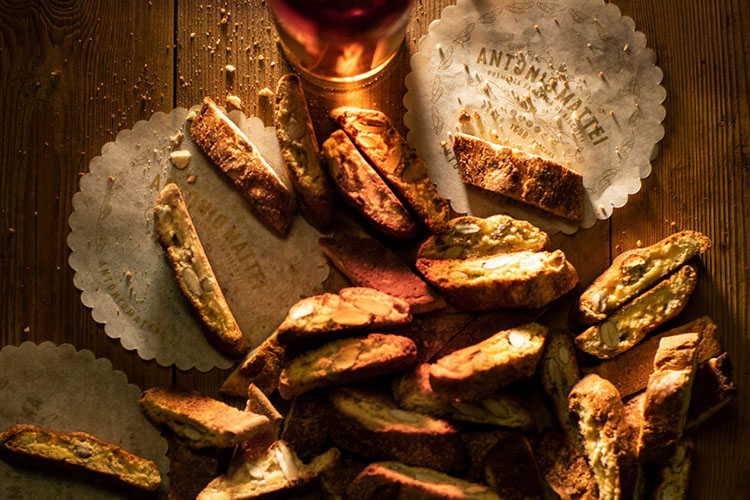 Meanwhile for ice cream lovers out there, you can find in our shops in Prato and Florence the Cassatina DAI-DAI. They are made with our Almond Biscuits and ice cream and covered with chocolate, they are produced by the artisan ice cream shop Dai Dai di Castiglioncello.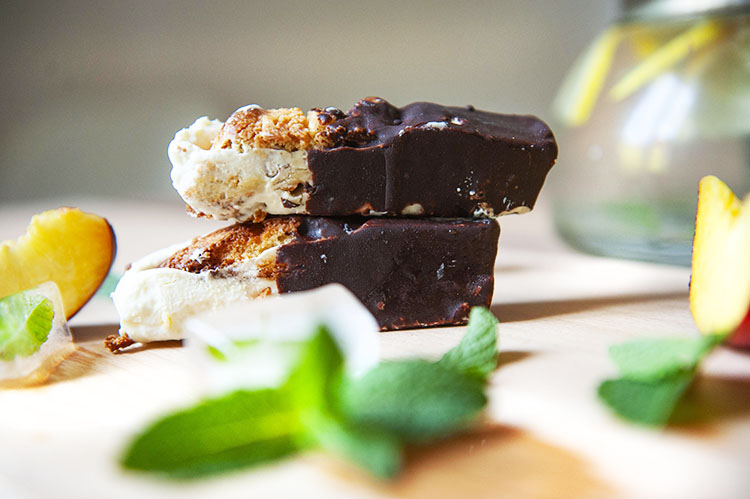 In Italy, August is traditionally a time for holidays and a bit of adventure.
There are those who enjoy a well-deserved rest, perhaps in the shade under a beach umbrella, those who do not like the crowded beaches and prefer to go to the mountains or the countryside; then there are those who cannot stay still in the same place for more than an hour and choose various places to visit, those who are fond of gardening or those who love cooking and making preserves and jams for the winter and prefer to stay at home, taking advantage of August to have dinners and parties with friends.
So, quoting the title of a famous book this August... va dove ti porta il cuore!!! (go where your heart takes you!!!)

But, before departing, we encourage you to stock up on your favourite products!
And by the way we'd like to remind you that in August the Biscuit Factory will observe its usual three-week summer break, along with the shop and historic headquarters in Prato and the Bottega Museum in Florence; we will therefore be closed from 13:00 on 6 August until 29 August.

HAPPY HOLIDAYS!

Vinsanto Cream Recipe by Marcella Pandolfini

Ingredients:

300 ml milk
150 ml Vinsanto
120g sugar
4 egg yolks
50 g flour Method:

Heat the milk and Vin Santo almost to the boil. Beat the egg yolks with sugar, add the flour, then gradually pour in the milk and the Vinsanto. Place on the stove, bring to the boil and cook the cream for a few minutes. Let it cool a little and then serve in small bowls with our Prato Almond Biscuits!