"Per filo e per segno"
Because we like to tell you stories about the biscuit factory in every detail...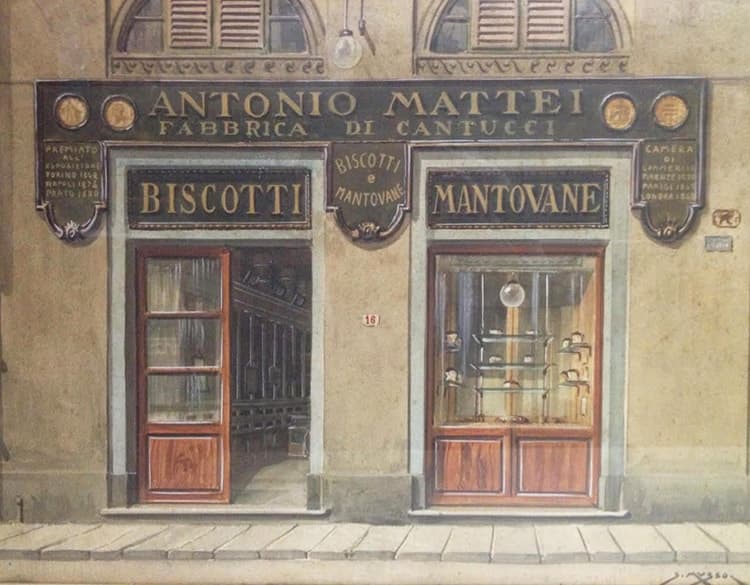 We want to dedicate this month's blog to Antonio Mattei's eldest son: Emilio. He who inherited the bread, pasta, cantucci and biscuit factory on the death of his father Antonio in 1885.

Why? Because Emilio was born in this very month. To be precise, as you can see on his baptismal certificate (kept in the seminary archive), Emilio Luigi Gaetano MATTEI was born in Prato on 18th June 1841 at 9 in the morning and was baptized in the cathedral the following day.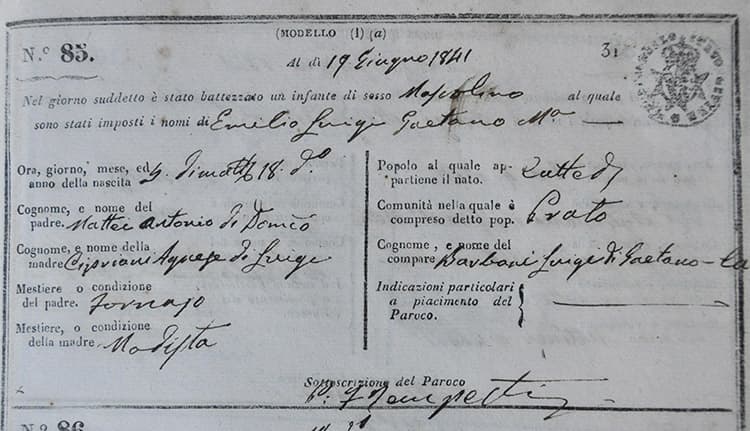 The first image we have of the biscuit factory facade dates back to the end of the 19th century, even though we do not have any photographic portraits of Emilio; we like to think (also given the resemblance to his father) that he is the man in the centre of this photo, the one with the apron, but he is not just an ordinary salesman, take a closer look ... he is not only wearing a work apron, but also an elegant shirt, waistcoat and tie.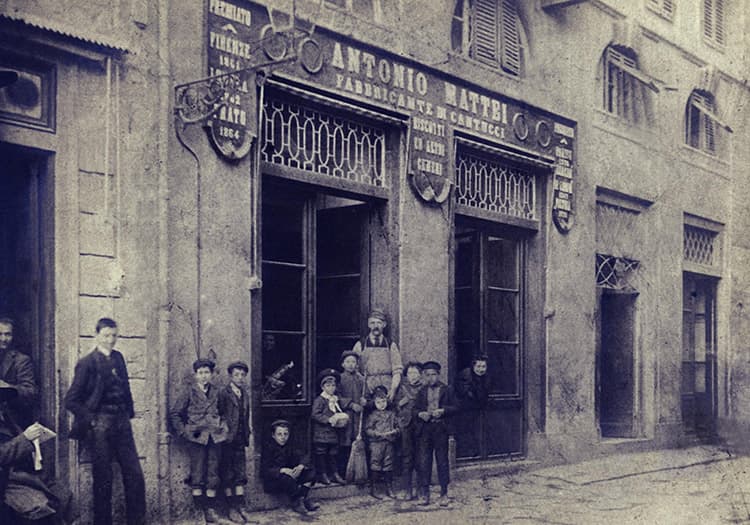 Furthermore, we have retained some written documents of Emilio Mattei, it is from these documents that we know that he had received a good education and upbringing, so much so that his father made him keep the shops accounts and records. An example is the sales invoice to the venerabile confraternita della misericordia (seminary archive, Prato). He is the only child of three who collaborated with their father Antonio Mattei and who outlived him. The brothers Cesare and Luigi no longer appear in the company after 1875.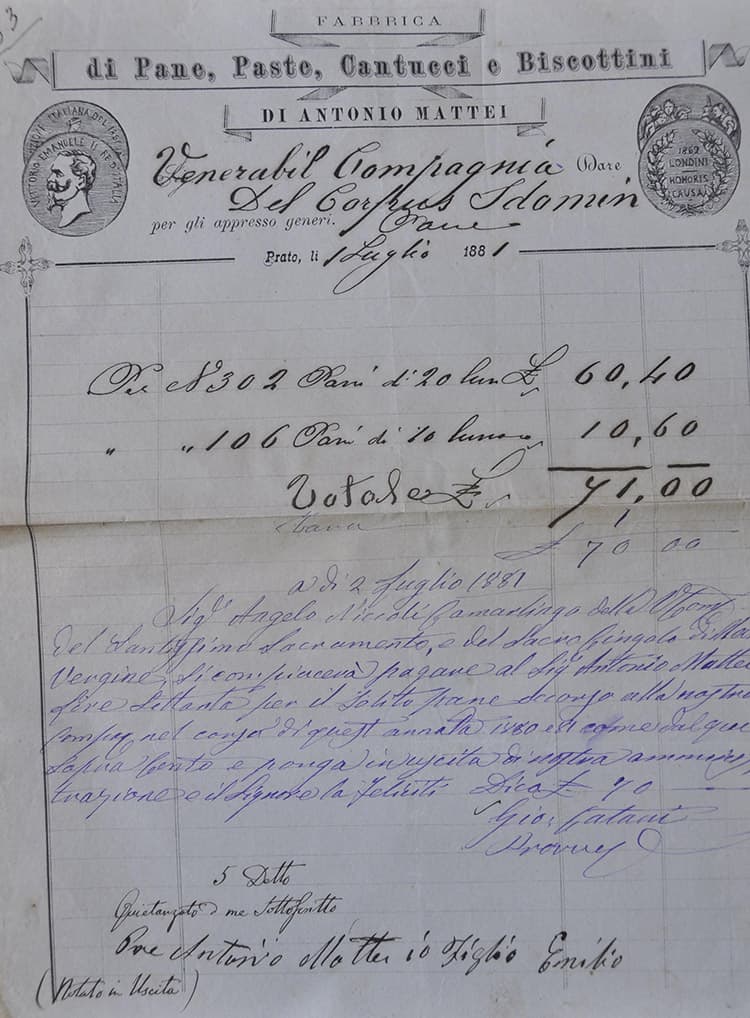 As fortunate and careful as Emilio was in his work, unfortunately he was not so lucky in his private life: In 1884 he married Ersilia Banti with whom he had two children, Enrico Mattei and Maride Mattei, unfortunately both died at an early age and then Ersilia died between 1889-1990. Emilio got married for a second time but sadly Luisa Cocchi died on 06-12-1894 so the marriage was cancelled. His third wife was Rachele Ciampolin, they got married on April 30, 1895. (A rumour says: Rachele Ciampolini was widowed by his brother Luigi Mattei.) He then also married for a fourth time, this time to Emma Pancani. Emilio died on 06 February 1916 at the age of 75, he is buried in the Misericordia cemetery next to his last wife Emma Pancani who died on 4th May 1930 at the age of 77.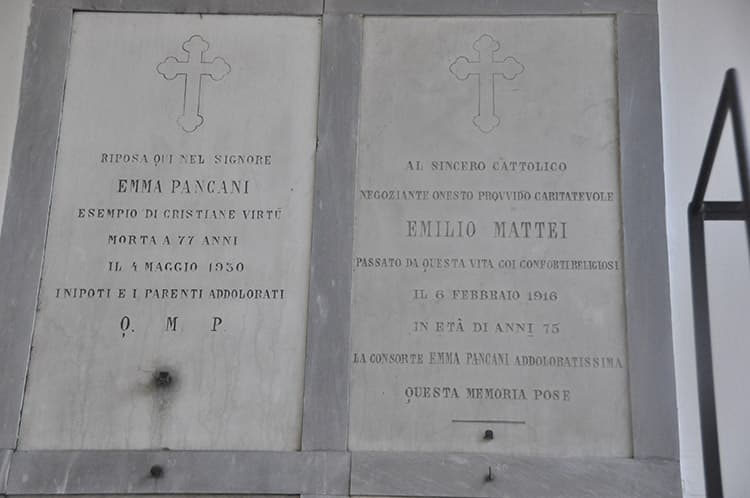 Although the brief account of Emilio's life may seem sad, it is not the same for the business. Emilio had no children, so he decided to sell the factory: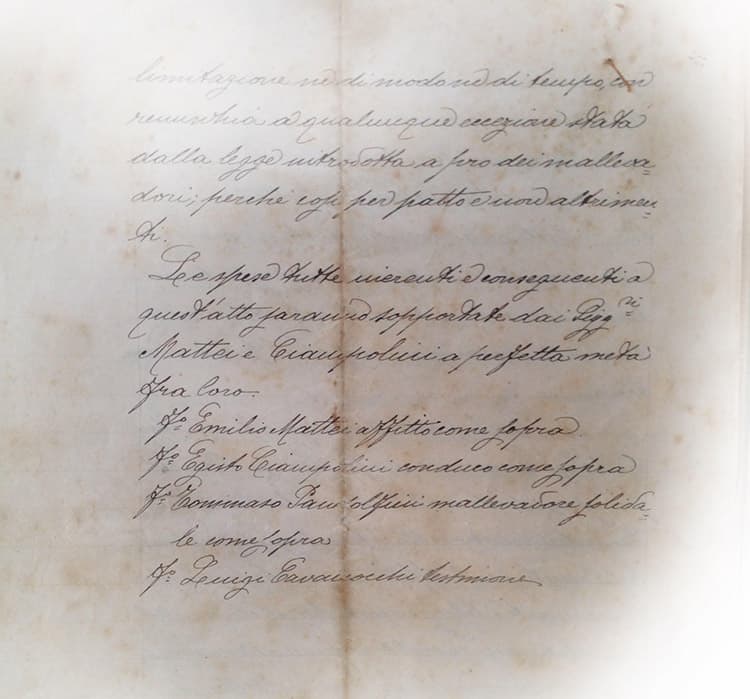 In 1904 a sale contract was stipulated between Emilio Mattei and Egisto Ciampolini; our great-grandfather, Tommaso Pandolfini acted as guarantor and became Egisto's business partner when he married his sister-in-law: preview photo - Inside the biscuit factory 1905.
Grandfather Ernesto Pandolfini began working in the company at a very young age and continued working until he took over the entire business, finally becoming the sole owner in 1920. In 1961 it then passed to our father Paolo and then to us 4 siblings at the end of th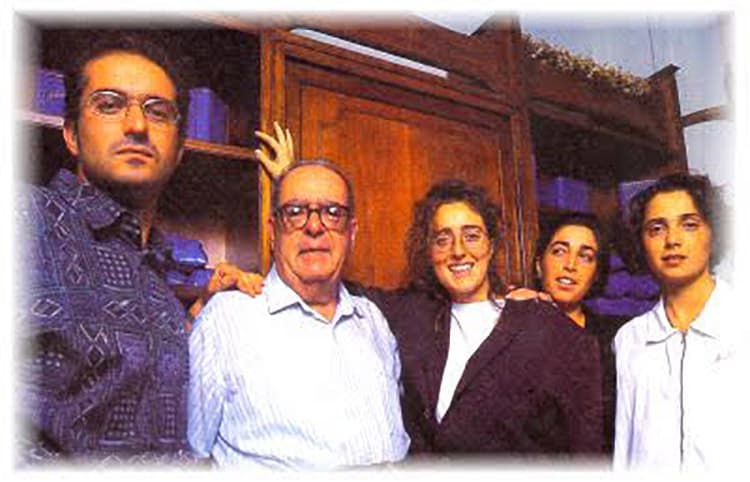 And so began the story of the Pandolfini family in the oldest biscuit factory in the city of Prato. And so continues the tradition of Prato biscuits and with it the history of the founder Antonio Mattei and his family.